English
English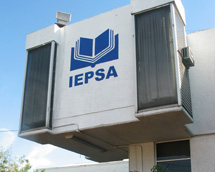 IMPRESORA Y ENCUADERNADORA PROGRESO, S.A. DE C.V.- IEPSA - is a parastatal mining corporation devoted to the graphic arts, specifically, printing and bookbinding of art, educative, technical and commercial publications. We are attached to the educative sector of the federal government and commited to diseminate culture.
Ever since it was established, the company has been in constant growth and since 1994, one of the priorities has been acquiring new machinery and state-of-the-art technology that keep us in the vanguard. Proof of this is the acquisition of a M-600 rotary press and recently a binding system for hardcover binding, so now we are leaders of the industry.
We provide our services to the public and private sector, to institutions as important as the Fondo de Cultura Económica (acronym in Spanish: FCE), Instituto Nacional para la Educación de los Adultos (acronym in Spanish: INEA), Consejo Nacional de Fomento Educativo (acronym in Spanish: CONAFE), Instituto Mexicano del Seguro Social (acronym in Spanish: IMSS) and the Suprema Corte de Justicia de la Nación (acronym in Spanish: SCJN).
IEPSA was established 67 years ago, in 1941, as a small family-business workshop called Encuadernación Progreso. In March, 1960 it became a public limited company (Encuadernación Progreso, S.A.). In 1969, one of the shareholders started the company Lito Ediciones Olimpia, S.A. (LEOSA), which provided offset services, so both companies got connected complementing each other.
In 1975 the Fondo de Cultura Económica, which is a part of the Administraciópn Pública Federal, acquired the share capital of EPSA and LEOSA. In 1988, the Secretaría de Educación Pública decided to merge both companies, which majority of shares already came from the State. This was based on the fact. that both had similar acitivity. This action was a reaction to the economical situation of the country and intended to reinforce programs of restructuring and productivity of the parastatal mining corporations.
Out of this process, Encuadernación Progreso S.A. was established. In 1992 it changed its name in order to make clear the range of services it offers.
Mission
We are a company devoted to the printing and binding branch of the graphic arts, with art, educative, technical and commercial publications. We diseminate culture and fulfill our clients needs by using a Quality Management System.
Vision
We intend to be the best company, the most competitive in graphic arts, supporting culture and encouraging long-lasting relationships with costumers, sharehoders, employees and suppliers.
Quality, Safety and Hygiene We rank in the 13% of companies registered in the CANAGRAF certified with ISO 9000-2000. We are the only company with the highest level possible in Quality, Safety and Hygiene. IEPSA is one of the 3 top graphic art companies that are certified as "Industria Limpia" (Clean Industry).
Did you know.... We are ranked as one of the 500 most important companies according to Expansion magazine (Mundo Ejecutivo Special Edition 2006-2007). IEPSA works with its own economic resources, and is a financially healthy company. IEPSA generates over 300 direct jobs, which implies support for at least 1,500 people.
ISO 9001:2000
Considering the importance of counting on efficient working methods that help to develop the capacities of the different areas that contribute to the producing process, IEPSA decided it was convenient to install a Quality Management System.
In 2003 we got the certification ISO 9001:2000, which was ratified in July, 2006. The organization that certified us was QS Mexiko AG, which is part of the QS Group (Quality Services), which headquarters are in Switzerland since 1999.
SASST
It is a priority for IEPSA to have a safe and hygienic working environment, so we decided to establish a Managing System of Safety and Health (SASST) to make management more efficient and reponsable of the risks every working environment has. In 2005 our System was certified by the Secretaría del Trabajo y Previsión Social.
It is important to point out that the process consists on three levels, which are passed when the safety level the company offers is reached.
Implanting this System brings up the following benefits:
Conditions and factors for employees wealth are guaranteed, and also for clients, suppliers and every people in the facility.
Working conditions are improved.
A culture of prevention regarding safety and hygiene at work is improved.
Clean Industry
IEPSA is specially interested in creating the ideal working environment to reach the most welfare for its workers. In an effort to project this to our community, we carry out actions to get the Industria Limpia (Clean Industry) certification, which we got in 2006 from the Procuraduría Federal de Protección al Medio Ambiente.
Última modificación :
Sábado 14 de Julio de 2012, Coordinación de Informática